Emily Curtis - vocals, guitar, piano
Emily is a singer-songwriter who has written more than forty complete songs. She was born and raised in New York City where she studied piano and music from early childhood.

| | |
| --- | --- |
| | a young songwriter at work.... |

She attended the High School for the Performing Arts in Manhattan, where she continued her study of the piano, and played cello and bass in student orchestras.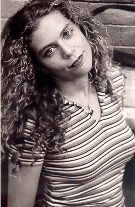 In her senior year at SUNY New Paltz, she taught herself guitar and began to write songs. Local musician friends asked her to play drums in their band - The Harmonic Virgins, though she had no experience or training on drums. Emily played with the band for two years, sometimes singing her own songs on guitar, or while playing drums. She began performing solo three years ago in upstate New York clubs and coffee houses.
In 1996 Emily relocated to Tempe, Arizona and formed the Emily Curtis Band with Jamal Ruhe on bass and John O'Reilly on drums. Through this experience she has become a confident and accomplished live performer, both as a singer and guitar player. She also recorded back-up vocals and keyboard parts for a CD by the band, Deadhot Workshop.
Last year Emily returned to New York City where she released her first CD. Produced by Ruhe and Curtis, 'Radiate' contains a multi-textured range of instruments and vocals with five guest players and back-up singers.
Emily has opened for the Steve Miller Band, Patti Rothberg, Melissa Ferrick, Paul Westerberg and Colin Hay, and she also appears on 2 great benefit compilation albums:
The BAG 1(Brooklyn Above Ground) compilation, which benefits World Hunger Year, a grass roots organization leading the fight to end hunger and poverty in America and world-wide.

It's about Eve - Music for the Cure, an organization dedicated to breast cancer awareness.
Currently, Emily is in the studio putting the finishing touches on her debut acoustic album, available on ModMusic Records this summer.